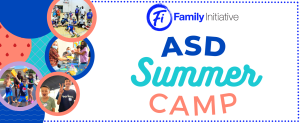 Family Initiative's peer programs and innovative services are taking over the summer! Find the compassionate support, expert therapies and fun activities your child needs to grow and succeed.
Summer camp will be offered for two different weeks over the summer in Fort Myers. Light breakfast and afternoon snacks will be provided to all campers. For scholarship and payment plan information, email us at summercamp@fi-florida.org.
Dates & Pricing
Week 1: June 6 – June 10 | $350
Week 2: July 18 – July 22 | $350
Mondays through Fridays 9:00 a.m. to 5:00 p.m.
Location
Christ Community Church | 4050 Colonial Blvd. Fort Myers
Ages
5-25 years old
Applications for ASD camp are now closed. Please note: filling out the application does not guarantee your child, teen or young adult will be admitted to camp, due to overwhelming demand. When filling out the application, please make sure all information is accurate.