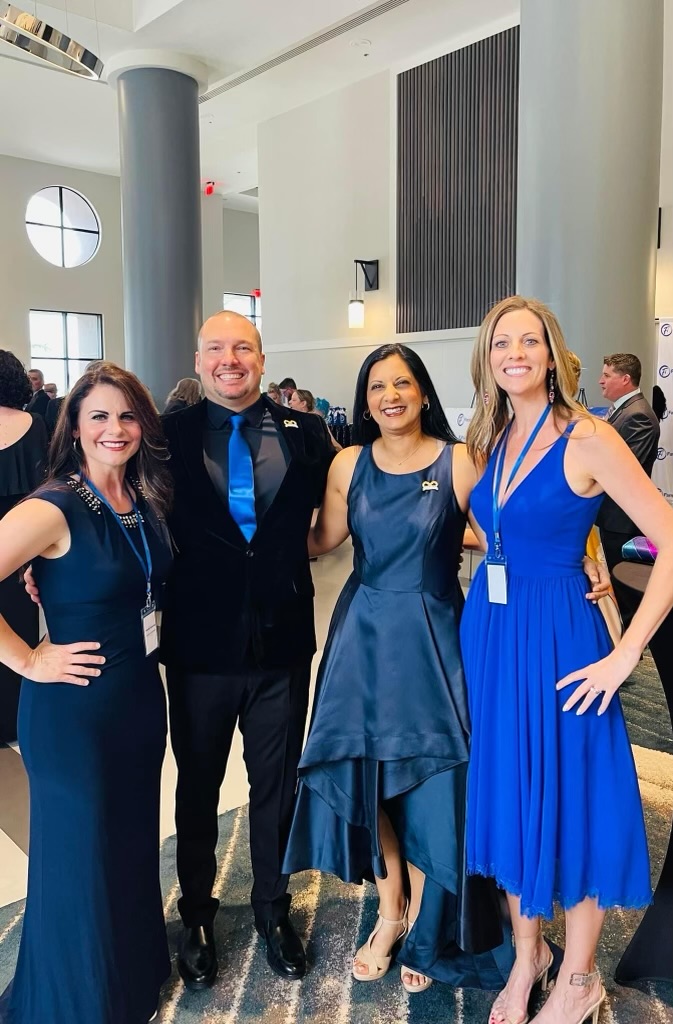 Family Initiative raises $391,000 at 2023 Autism Acceptance Awards Gala
Annual awards gala honors champions of autism spectrum disorder 
FORT MYERS, Fla., (May 2, 2023) – Family Initiative's 2023 Autism Acceptance Awards Gala raised over $391,000 to provide family-centered compassionate support, innovative programs and evidence-based therapies to children, teens and young adults impacted by autism spectrum disorder (ASD).   
The annual celebration was held at the culmination of Autism Acceptance Month on April 29 at the Caloosa Sound Convention Center & Amphitheater in downtown Fort Myers, featuring dinner, a live auction and an awards presentation.  
"Our annual awards gala is a celebration to honor the passion and dedication of those working tirelessly to support children, teens, adults and families of those with ASD, and we are proud to highlight the incredible work they do throughout our community and schools," said Co-Founder David Brown. "We are grateful to the generous supporters and attendees who sponsored and donated to the gala, ensuring we exceeded our goal of reaching nearly $375,000 towards programs, services and staffing to continue to reduce the waitlist for Family Initiative. With the latest statistics revealing 1 in 36 children are diagnosed with autism, it's more important than ever that we continue to ramp up and provide much-needed services to the growing number of families impacted by ASD."  
Family Initiative's annual Autism Acceptance Awards Gala recognizes and celebrates the everyday champions of the ASD community and their tireless efforts to promote inclusion, education and empowerment for the ASD community and beyond.   
Honorees included: 
The Believer Award was given to Joseph Pace, a special education teacher at Diplomat Elementary School in Cape Coral for his positive impact on students and families with autism. 

 

The Champion Award was presented to Krista Kasprzak, a teacher at Rayma C. Page Elementary School for helping to positively influence and advance the well-being of her students with ASD.  

 

The Partner Award was given to Lee County Tax Collector Noelle Branning for providing opportunities for young adults with ASD to integrate into the workforce through innovative new training programs.

 
The Dylan Award was presented to Eileen Skillrud, a Lee County teacher at Gulf Elementary for her steadfast advocacy for students, children and families on the spectrum.

 

New this year is the Hero Award, presented to Jessica Van Hart, a steadfast advocate, Family Initiative Board Member, Gala Committee chair and the mother of Kolby, a young adult on the autism spectrum who greatly benefits from Family Initiative's services.

 
Proceeds from the Autism Acceptance Awards Gala will directly support children and families on Family Initiative's waiting list, the hiring of certified clinicians and free or low-cost community services to help children on the autism spectrum thrive. The nonprofit organization offers social skills programs, clinical services and community education for children and families in Southwest Florida.   
The Autism Acceptance Awards was chaired by Jessica Van Hart with the support of a committee of parents and community partners. The event's gold sponsor was Tomahawk Construction, cocktail hour sponsor was City Tavern, key sponsor was Van Hart Provisions, live auction sponsor was Fabri-Tech Outdoor Living, golf sponsor was TR Transportation Consultants, Inc., the photobooth sponsor was Super Screen, and the prize machine sponsor was Sanibel Captiva Community Bank.   
VIP sponsors include American Metal, Florida Sales and Marketing/Super Screen, Gavin Ace Hardware, Heyer Construction, MacKoul Pediatrics Fort Myers, Shell Consulting Group and Suncoast Beverage Sales. Table sponsors included Barraco and Associates; Beattie Development; Boyle, Leonard and Anderson, PA; Coastal Building Consultants; Jeff Cull and Ella Nalor; First Horizon Bank; Independent Marine Surveyors, Inc., Priority Marketing, Pristine TLC Group, Raymond Building Supply and Studio +.  
Special thanks for the event's success went to Affordable Carts, Artsemble Underground, DeAngelis Diamond, G3 Catering, Lee County Sheriff's Office, Mark Loren Designs, MarineMax, Norman Love Confections, and Rally Point Garage. 
To learn more about Family Initiative, the services they offer and their work in the community, visit FI-Florida.org or call 239-910-0712.  
About Family Initiative 
Established in 2015, Family Initiative, Inc. is a Florida-based 501(c)(3) nonprofit charitable organization dedicated to supporting children with autism and strengthening their families. Its team of clinicians serves children from compassionate, personalized approach through Applied Behavior Analysis (ABA) and Occupational Therapy (OT) services, and offers autism play groups, teen meetings, parent education, community conversations and more. In addition, the organization provides child welfare caregiver training and support through its Family Impact Program. Visit FI-Florida.org or find Family Initiative on Facebook and Instagram at @FamilyInitiative and on Twitter at @FI_Inc. 
Media Contacts:  
Holly Boldrin, APR, CPRC, Priority Marketing, Holly@PriorityMarketing.com, 239-267-2638 or 239-887-9335 (cell) 
Emily Golden, APR, Priority Marketing, Emily@PriorityMarketing.com, 239-267-2638 or 239-5651595.