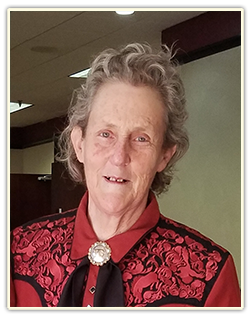 Family Initiative to host autism

activist

Temple Grandin

for

Redefining Autism speaker series on Jan. 7

 
CAPE CORAL, Fla. (November 29, 2022) – Family Initiative, a nonprofit dedicated to supporting children and families with autism, is continuing its Redefining Autism speaker series with a presentation by renowned autism activist Dr. Temple Grandin on Saturday, Jan. 7 at 1:30 p.m. at Christ Community Church, 4050 Colonial Blvd. in Fort Myers. 
As part of the Redefining Autism series, Grandin will discuss how the world needs to take a closer look at our autism community. "At the heart of that message is this: Rigid academic and social expectations could wind up stifling a mind that, while it might struggle to conjugate a verb, could one day take us to distant stars. The skills that people with autism bring to the table should be nurtured for their benefit and society's," Grandin said. 
Grandin, 75, grew up with autism in the 1950s, and became a professor of animal science at Colorado State University as well as a world-renowned autism advocate. Grandin has famously said, "If I could snap my fingers and be nonautistic, I would not. Autism is part of who I am."  
Grandin is an author of several books and published works, has a biographical movie created about her life and is an international speaker working to change the world's perception on what it means to live with autism.  
"Temple Grandin is one of the nation's foremost speakers on autism, and we are thrilled to bring her to Southwest Florida," said David Brown, president of Family Initiative. "Our Redefining Autism speaker series is all about changing the way we look at autism, and Temple Grandin brings fresh insights and perspective into the world of autism." 
Learn more about Temple Grandin, her experience and her ongoing work here:  
Welcome to Temple Grandin's Official Autism Website 
Temple Grandin (TV Movie 2010) – IMDb 
Temple Grandin's new book "Visual Thinking" | WAMC 
Temple Grandin Wants All Types of Minds to Contribute to Society – WSJ 
Registration is not required for the Jan. 7 event. For questions and more information, email rfecteau@fi-florida.org. Upcoming events in the Redefining Autism Speaking Series are posted online at FI-Florida.org.  
About Family Initiative 
Established in 2015, Family Initiative, Inc. is a Florida-based 501(c)(3) nonprofit charitable organization dedicated to supporting children with autism and strengthening their families. Its team of clinicians serves children from a compassionate, personalized approach through Applied Behavior Analysis (ABA) and Occupational Therapy (OT) services, and offers autism play groups, teen meetings, parent education, community conversations and more. In addition, the organization provides child welfare caregiver training and support through its Family Impact Program. Visit fi-florida.org or find Family Initiative on Facebook and Instagram at @FamilyInitiative and on Twitter at @FI_Inc. 
– END – 
Media Contact:
Holly Boldrin, APR, CPRC, Priority Marketing, Holly@PriorityMarketing.com, 239-267-2638 or 239-887-9335 (cell)