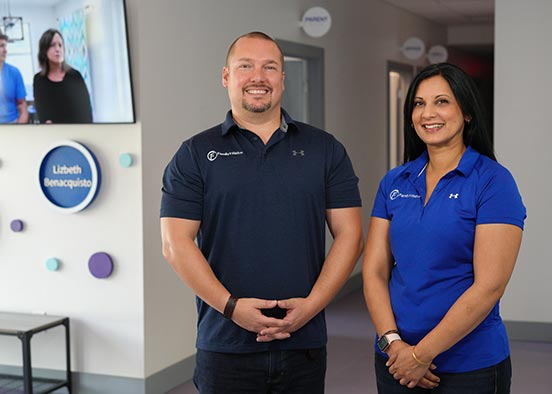 After Amy Richardson's daughter, Olivia, was diagnosed with autism spectrum disorder about eight years ago, the Cape Coral mom scoured Southwest Florida from Naples to North Fort Myers to find resources to help her understand autism and nurture a child with social and behavioral issues associated with the developmental disorder.
Richardson found few options, she says, and eventually stopped looking. She kept up doctor appointments, but even they seemed ill-equipped to offer much guidance, she says.
"I knew she needed more," Richardson says. "I took to the internet and found Family Initiative. It has been such a positive impact in our family's life and Olivia's."
After six years of taking part in clinical therapy and other activities with the nonprofit organization, Olivia's tendency to display aggressive behavior and to run away in public places has dramatically lessened, her mom says.
Family Initiative was founded by two Florida Gulf Coast University alumni – David Brown and Anjali Van Drie – committed to providing more and better services for children and young adults with autism as well as compassionate support and training for their families. Both completed their master's degrees in social work at FGCU in 2012 and were crossing paths professionally in child-welfare agencies, when they grew alarmed by two entwined issues: the increasing numbers of children in that system who were autistic or likely to be diagnosed autistic if they were evaluated properly and the lagging resources for those children and their struggling families.
"It was shocking to me how little was available," Brown recalls.
They decided to take the initiative and establish their own nonprofit in 2015 to help fill the gap. Family Initiative's team of clinicians serves children through applied behavior analysis and occupational therapy services and also offers autism play groups, teen meetings, parent education and support groups and more. Some programs, like social-skill building, are free; clinical services such as occupational therapy are typically covered through insurance or fees. The organization also provides child welfare caregiver training and support.
Since 2015, the number of children they've served has soared from 21 to 1,325, and Family Initiative has grown to four resource centers and 44 employees – including other FGCU alumni.
"When we started, the CDC said 1 in 100 children were diagnosed with autism," Brown says. "Today 1 in 44 are diagnosed. In just six years, the rate has exploded."
He points to a combination of factors. As autism awareness has increased, more children have been evaluated. How children are screened has changed, with clinicians now recognizing how gender bias influences diagnoses – because autism presents differently in girls and boys. And the general population boom in Southwest Florida is bringing a wave of new families in need of services.
"We're hiring people as fast as we can, trying to keep up with the pace and build infrastructure," Brown says.
The Collaboratory and The United Way are major funders of Family Initiative, which also receives support from private individuals. State aid helped pave the way for Family Initiative's latest addition, a 3,900-square-foot support center in Cape Coral that opened in April 2021. Inside the center, sound-reducing panels, subtle colors, low-emission paint and other features intentionally create a non-stressful sensory environment for therapy and socializing.
But the majority of Family Initiative's work is out in the community, according to Van Drie, a board-certified behavior analyst. In response to urging from families, Family Initiative started offering applied behavior analysis a few years after opening. The evidence-based practice involves clinicians spending hours with families in their homes, at the supermarket, whatever the day entails. Focusing on the immediate environment – what is happening before and after behavior such as hitting, spitting or throwing objects – they can use the information to help change behavior in the future, Van Drie says.
"My job is to identify goals in behavior reduction and skill acquisition to work on," Van Drie says. "Typically, our kids haven't learned how to communicate their needs in another way, so they show aggressive or destructive behavior. We focus on problem behaviors and teaching our kids a better way to get their needs met, teaching skills to help them be more successful out in the world."